Dr. Lilly Rahmann, Phd
CRYSTAL HEALING & RESONANCE CENTRE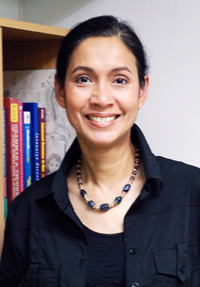 DR. LILLY RAHMANN, Phd
Gemologist
Usui-Tibetan Reiki Master
Certified Spa Therapist
Quantum Touch Certified Instructor
Crystal Healing Therapist
Master Hypnotist
5-Path™ Hypnotherapist
7th Path Self-Hypnosis™ Teacher
Certified Hypnotherapist NGH
Lilly has been working with crystals and gems since she was a young girl in Thailand. She followed in her father's footsteps by becoming a certified gemologist and taught gemology at the Asian Institute of Gemological Science in Bangkok,Thailand.
..............................
Courses Offered
FOR MORE INFORMATION OR TO REGISTER
PLEASE CALL OR E-MAIL
Michel Laframboise
Cell: 514-264-0691
E-mail: Click Here
Please book early as space is limited: 10 to 24 students.

Our Certified Instructors and Certified Therapists
Asa Raman


- Anatomy and Physiology -Honours Diploma, CIBTAC.
- Body Massage –Honours Diploma, CIBTAC.
- Swedish Massage Diploma, Chiva-Som Academy.
- Manual Lymphatic Drainage Massage Prof.Cert., Chiva-Som Academy.
- Stone Massage Prof.Cert., Lanna Thai Spa Academy
- Cascade Train The Trainer Program, European Union Asia Invest Programme Funded Project.
- Teacher of Thai Traditional Massage Cert.,
- Spa Manager License, Ministry of Health, Thailand.

...................................................................................................................................................................................

Chavalit Thongau


- Archaeologist.
- Reiki Therapist.
- Gem Spa Therapist.
- Crystal Healing Therapist.
- Quantum Energy Therapist.
- Psychometry Cert.
- Developing Psyche Awareness Cert.

...................................................................................................................................................................................

Plumchit Keawsai


- Crystal Healing Therapist.
- Quantum Energy Therapist.
- Reiki Therapist
- Child Behaviour Therapist -Autistic and Hyperactive Children.

...................................................................................................................................................................................

Aisha Laframboise
- Thai Yoga Massage Therapist.
- Thai Aromatherapy Massage Therapist.
- Swedish Massage Therapist. (more about Aisha Laframboise)


...................................................................................................................................................................................

Ginette Kemp


- Energy Healing Therapist.
- Crystal Healing Therapist.
- Homeopathic Therapist.
- Quantum Touch practitioner.

...................................................................................................................................................................................

Muniz Ali

(for visitors in Singapore area)
- Crystal Healing Therapist / Quantum Touch Practitioner.
- Therapeutic Therapist / Hot and Cold Stones Spa Therapist.
- Swedish Therapist. / Thai Traditional Therapist.
- Spa Therapist. (more about Muniz Ali)

...................................................................................................................................................................................

Ariane Grenade


- Certified Quantum-Touch Practitioner. (more about Ariane Grenade)




...................................................................................................................................................................................

Diana Fung (Cori)
- Doctor Of Natural Medicine.
- International Naturopathic Medicine Association(INMA) professional member.
(more about Diana Fung (Cori))